XML batch validator - Get detailed validation reports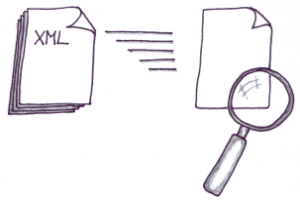 Validate thousands of XML files with a single click
Select a folder and find all valid or invalid XML data using a single command.
Quickly find not well-formed XML.
Manage and inspect your XML with the built-in Explorer.
Apply Schematron business rules to any number of XML documents.
Learn here how XML Validator Buddy makes checking XML simple for you.
Get a detailed XML validation report
with all the information you need
Get a list of valid or invalid XML documents with XML Validator Buddy Desktop.
Choose between comprehensive or narrow reports with several options.
Use the command-line validator to create a detailed XML batch log.
Automatically transform the XML batch validator report to HTML.
Run XML batch validation at any time
on your server
Command-line XML tool for scheduled XML batch tasks.
Create XML batch tasks with ease in XML Validator Buddy Desktop.
Load all XML batch settings from a single file to keep them together.
Run multiple XML batch validation tasks on your server.
Learn here how you can use XML ValidatorBuddy to get a detailed log about the validation status of your XML data in just a few steps!
XML Validator Buddy makes XML batch validation of thousands of XML documents easy and convenient. It is a simple task to configure and run XML batch checking using W3C, DTD, Schematron or RelaxNG.
Test your XML batch task directly from the desktop application.
User-friendly dialog to configure all available options for the XML validator.
Save batch settings separately and run the same task just by loading the settings again.
XML batch reports and settings are saved as XML for easy processing.
The same configuration XML can also be used for the command-line validator.
Check XML and find invalid data quickly.
Use the well-formed batch task to make sure all of your XML can be parsed.
Fix any errors immediately in the XML Validator Buddy editor.
Take a detailed look at some other features of XML ValidatorBuddy
XML ValidatorBuddy is more than just an XML editor. Learn more on clicking the images and links below.